There once was a time when the internet was young, and simply having a website gave you the edge over your competitors.
But those days are long gone, and to make an impact with your website today you not only need great strategy, great web design and excellent development, but it also requires smart, effective digital marketing.
Finding a budget for online marketing can be really difficult, especially for small businesses. So it's essential that you're investing in cost-effective SEO that focuses your limited spend in the areas where it will make the biggest difference.
In this guide, we'll look at some of the best options for affordable SEO services, how to make the most of a limited budget, and how to identify red flags from cheap SEO marketing plans that aren't worth the money.

Let's start with the biggest problem when talking about low cost SEO packages - cheap website SEO that doesn't actually work, or worse, that uses black-hat tactics that tank your reputation (and ranking).
You'll find lots of companies online who'll tell you they can give you a cheap SEO solution for as little as £99 a month.
They'll usually also tell you that they have "guaranteed results", or will "get you to #1 in Google".
But when it comes to SEO, what you're really paying for is a combination of expertise and time. If you're spending £100 a month on your SEO, think about how much actual work that's going to translate to - not to mention the quality of that work.
To give you an idea, Ahrefs did a comprehensive study of SEO pricing in 2023, which showed that in the UK, most SEOs charged between $61-$200 per hour.
That works out as about £48-£157.
Which means that your £100 a month budget is likely to be getting you between 30 minutes and 2 hours of work at best.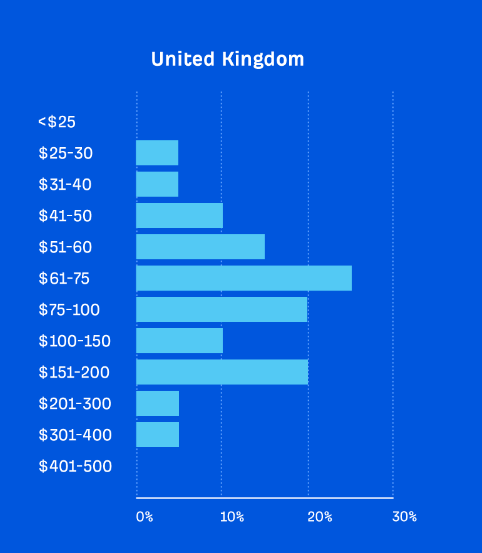 That's really not a huge amount of time to be spending on your website. In fact most agencies will spend more than 30 minutes putting together your monthly report, so that leaves very little budget left for actual website improvements.
This is a big red flag that your "affordable monthly SEO" is actually paying for basic report generation and very little else. Not a great return on your investment.

All too often that "guarantee" of "1st page ranking" ends up being for either your company name (which you'd expect to be ranking pretty highly for), or something so low volume it doesn't really make an impact.
In fact, keyword selection is a really common way for cheap SEO companies to fudge the data to make you think you're getting value when you're actually not.
One big red flag in these scenarios is when an SEO company asks you to pick your own target keywords.
Don't get me wrong, it's good to share some keyword ideas with your agency. But if your SEO company is asking you what they should target, that's a really bad sign.
After all, it's part of their job to do the research to find good target keywords for your website. How could you know whether the keywords you've chosen are the right ones?
You won't know what the competition for those terms is like, what the search volumes are, and sometimes you might not even consider things like search intent. It's your agency's job to work that out for you, and they should let you know what's going to be worth targeting.
But keyword research is extensive and time-consuming - two things you're not going to get for £100 a month.
It's the same story when it comes to content creation. An article put together in a couple of hours is unlikely to be well researched, well written or comprehensive enough to actually make any headway.
In fact, most low cost monthly SEO packages don't include things like keyword research or content marketing - two of the most significant elements of SEO - because those things take time. And time is money.
You'll find that most cheap SEO comes from link building, because this can be done without needing to invest much time or effort.
Unless you want to do it well.
Cheap link building generally builds you up with a portfolio of automated low value links from spammy websites.
Good link building, on the other hand, involves work and effort to get links posted from relevant, authoritative websites that actually pass value to your own.
In fact, spammy link building can even get your website punished by Google, as this is seen as black-hat SEO, which can see your site getting hit with a penalty, and even delisted.
So, if cheap monthly SEO isn't actually effective, what's the alternative if you're looking for low cost SEO services for small businesses?
The answer is by using your budget wisely, and investing in some short-term services that are likely to bring the biggest wins, and set you up to manage your own SEO in-house too.

If you're not able to invest more than a couple of hundred pounds a month on SEO, then an ongoing marketing service probably isn't for you. It's incredibly unlikely that you'll see a good return on your investment when the budget is that tight.
But instead of spending £100-£200 a month for a year without making any headway, you could take that budget and invest it in some one-off SEO services that can actually make an impact.
In fact, most online marketing campaigns start with a one-off set-up cost that usually covers an initial audit and research.
There are also often some quick wins to be had with SEO, particularly if your website hasn't been optimised in the past.
Now, we're not promising that these methods are going to shoot you to the top of the search engines, or provide you with a sustainable ranking. However, we do think that these are the best options to make the biggest initial impact, and to give you a foundation that you can build on in the future.
Any SEO offering should start with a technical audit of your website to make sure it's correctly built and optimised. Any technical audit should start with the following (but not be restricted to):
Meta titles and descriptions
Appropriate alternative text on relevant images
Website architecture
Structured data markup
Core Web Vitals scores
Use of semantic heading tags
Setting canonical links
301 redirects
Robots.txt file
Sitemap
Internal linking structure
If your website is built on a platform like WordPress, it's also essential to check for updates to any themes and WordPress plugins - especially if you don't currently have a website maintenance contract.
Even if your website has only been around for a while, it's very likely that there will be some small technical changes that can make an impact in terms of SEO.
However, sometimes there can be so much technical updating required, or the website can be so archaic that it's actually worth investing in a whole new website.
Sometimes this can give you a clean slate and can help you sort out a whole host of problems, from security and page speed to content architecture.
But, as we're talking about keeping to a SEO budget plan, it's unlikely that you're in the market for a brand new website too!
So some technical updates could be the answer instead, as they could make all the difference to how your website performs, which is a key factor in how Google views and rates your website.
If you're going to invest your SEO budget on only one thing, we'd recommend it to be keyword research.
It might sound strange for us to advise you to go for something that's passive, and not active, but actually it's keyword research that forms the foundation of almost all SEO.
If you've got a reliable keyword strategy, it means that you can actually manage some digital marketing in-house.
You can use your keyword research to update on-site content and meta data. You can use it to build a content marketing plan and do your own in-house blogging.
Content is still very much king when it comes to digital marketing, so having great keyword data means that you can at least set your website up to target the right terms from the outset, even if you don't have an ongoing strategy to build on that foundation or adapt to future changes.
Ideally what you expect from a good SEO agency isn't just a list of keywords to target, but a comprehensive process, analysis and explanation of the data.
You should expect the agency to:
Audit the current keywords on each page of your website. This should include

Average positions
Average clicks, impressions and click-through rates

Search for new opportunities by looking at competitors, synonyms, trending topics

These should also include average Volumes and Keyword Difficulty scores

Create a plan that assigns keyword priorities to all your current pages
Sets out new page opportunities or structural changes based on target keywords
Some agencies may even provide content marketing plans with some target topics and keyphrases that you can use for writing articles.
Local SEO is another really great way to spend a small SEO budget - although it's a lot more impactful if your business does have a local focus.
If your company has a UK wide target audience, then some local SEO strategies can (and will) still bring you some benefit, but the gains for locally focussed businesses are much greater and should definitely be a big focus for your online marketing budget allocation.
Local SEO is all about ranking in your local area, and great local SEO can actually help you leapfrog the organic listings for searchers in your area - who are exactly the people you're looking to target anyway!
One of the best ways to achieve that is with an optimised Google Business Profile. A great profile can help you get listed in Google's "local pack", which is the listings you see under the map when you do a search.
Another popular method of improving your local SEO is to have dedicated location pages. These are really important if you have several locations to cover, but can also help you rank for more localised keywords.
For example, you may be looking for customers from Warwickshire and the surrounding areas, but have dedicated landing pages for Warwick, Leamington and Coventry.
These pages help Google to understand the areas you cover, and also provide users with tailored information depending on where they're based.
NAP means Name, Address and Phone number, and NAP citations are basically references to your company's details on other websites.
These citations help Google understand who you are, where you're located and what your contact details are. It also helps with your local SEO, as you're proving to Google that you are in a specific local area.
This might be sounding a little like the old spammy tactic of listing your business on a bunch of directory websites for some cheap links. But actually, it's more about getting listed on trusted, relevant directories, so that Google can be certain of your business details (although the links are a bonus!).
You may find that your company is already present on some of these websites - for example, you may already have a Facebook page or a Yahoo Local listing.
But it's really common for your company to be listed in different locations with lots of variations in the details, even small things like whether you include the "Ltd" at the end of your company name can make a difference.
Cleaning these citations up can take a lot of time and effort - especially as you may not know what listings you actually have! That's where a digital marketing agency comes in.
They most likely have access to a service where they can see whether your business is listed on a range of good, trustworthy websites, and what the details of that listing are.
They can then update and add listings for you, ensuring that they're focusing only on the relevant and reputable sites, to make sure that Google sees consistent details about your business, and picking up some good value links at the same time.
Another way to get the most out of your digital marketing strategy budget is to work on reputation management.
Reputation management is also known as social proof and, basically, it's about getting good, authentic reviews.
Google loves to see what people say about your business, and your review rating will not only display on your GMB profile, it sometimes even shows in organic listing results too.
This is a massive bonus if you've got great reviews, as it's a clear sign to users that other people love and recommend your products or services.
But having a bunch of 5-star reviews or glowing testimonials just stuck on a page on your website isn't going to cut the mustard here. Google needs to be confident that these reviews are genuine and from real customers.
So the best places to focus your efforts are through trusted 3rd party reviewing platforms such as Trustpilot, social media sites like Facebook, and also through Google itself.
A great way to generate reviews is to send out emails to customers and clients, requesting they leave a review on one of your selected sites.
A digital marketing agency or search engine optimisation consultant may be able to set up an automated process to handle this for you, so you can start generating reviews without any additional effort at all.

When you're creating an online marketing budget plan, it can be very difficult to navigate through all the different options, pricing and services that are out there.
Ongoing digital marketing is always going to be the fastest, most effective, long-term solution to improving and maintaining rankings - especially if you have an agency that really understands and works with you.
But with a regular monthly cost that's likely to exceed £1,000, that's not a realistic option for everyone.
However, you can make an initial impact with a one-off digital marketing plan that gives you the best chance for an initial boost in rankings, and also sets you up for ongoing SEO that can either be done in-house, or by an agency in the future.
You can expect a one off digital marketing package to include things like:
Technical SEO audit and clean-up
Keyword research and planning
Local SEO - including GMB optimisation
NAP citations
Reputation management
A one-off service like this isn't going to be a magic bullet, or a one-and-done SEO fix, and all of them are infinitely more impactful if they're managed and maintained regularly.
For the best results, you'll want an expert to take all this planning and setup and carry it forward into an SEO strategy that grows and builds and changes.
But if your budget can't stretch to that, then you can take the initiative yourself, and build on the research that's been done and the foundation that's been laid. You can start doing your own ongoing SEO, including things like content marketing, link building and landing page creation based on the resources and research from your initial SEO setup.
Whether it's your in-house team or an external agency taking you forward, having a one-off SEO analysis, research and setup process can put you on the right foot from the start, and help you get the most out of your online marketing budget - whatever that might be.
But, a good digital marketing strategy is always developing as the landscape changes, so if you decide to manage your ongoing SEO in-house, it can also be helpful to go through this process on a regular basis - say every year or couple of years.
That way you can keep control of your month-to-month spend, but have a regular audit and analysis from an SEO expert so that you know that you're on the right track, and to make sure you're taking advantage of new opportunities, dealing with technical changes and not spending time on tasks, platforms or strategies that aren't working for you.
Want to find out more about ongoing or one-off digital marketing plans from Edge of the Web? We'd love to hear from you.
Get in touch
Got a question or need some help with your next web project? Our creative team is here to help, and we'd love to hear from you.