Is your website a little creaky around the edges? Are you no longer in love with the visuals?
But is it truly time for a website redesign?
How do you tell when it's the right moment to make the leap and get a new website?
Here are the big signs that your online presence needs an upgrade:
Page loading times have never been so important. Older websites are much more likely to be slow loading, sometimes because they've got a bit bloated over time with additional plugins and assets, and often just because they weren't built with speed in mind.
A good way to test whether your website is slow loading is to use Google's PageSpeed Insights. Pop your URL in the box and Google will give you a rating.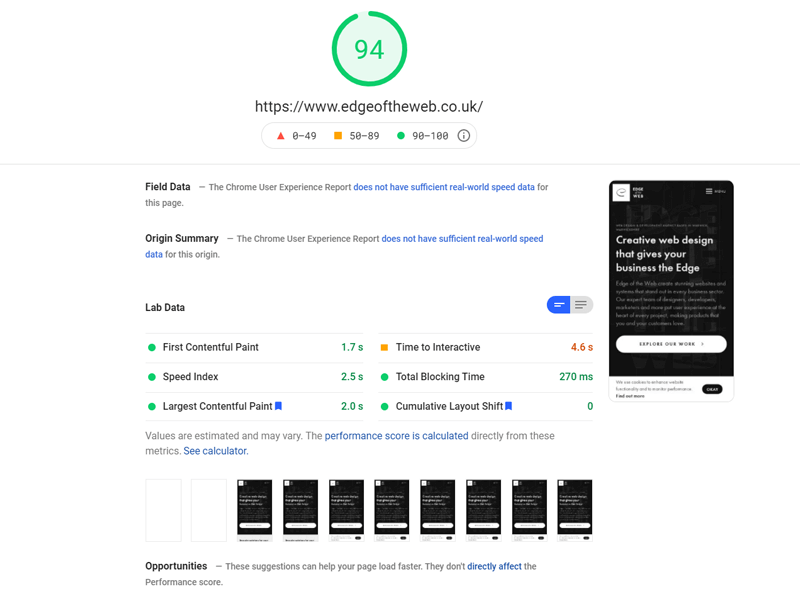 Anything that isn't green is a worry.
Remember page speed isn't just about user experience any more - it's also about SEO. So it's vital that your pages load nice and quickly for your users, and your rankings too.
Naturally, over time you add more content to your website. A lot of the time that's through sections that you expect to expand, like your products, blog or case studies.
But sometimes it's brand new content that doesn't really fit anywhere. So you fit it in wherever it works best.
And then you have to do that again. And again.
It's something that we call "Frankensteining". You start off with a perfectly organised website, and over time you add more and more to it, and it inevitably ends up a bit of a monster.
Content creep leaves you with poor UX, muddled messaging and missed opportunities - so it's a big reason to redesign your website.
If your website uses a platform or plugins, you can run into problems if they come to their end of life.
Even if you regularly update your CMS and plugins, they can still get bloated and slow as time goes on.
There's also an element of Frankensteining that can happen with plugins as well as content. It's pretty common for people to add new features over time, but making incremental changes often means adding new plugins, instead of looking for an option that covers all of your needs.
This way you're adding plugins to the site every time you add a new feature, which builds up the bloat and slows the website down.
Usually, during a redesign, your digital agency will streamline the number of plugins, keeping the features and functionality that your site has or needs, but cutting down the number you're using.
One of the biggest reasons we hear from clients who want to redesign their website is that their current site has a poor user experience.
User experience is absolutely one of the most important factors in the success of your website, but you'd be shocked how often it's left out of the process.
It's a particular problem for clients who've used a template or theme for their website, or who have gone for a package option.
Bespoke websites tend to have more of a focus on UX, as that forms the backbone of the sitemap and website structure. But when those things are set from the outset, it's easy for UX to fall by the wayside.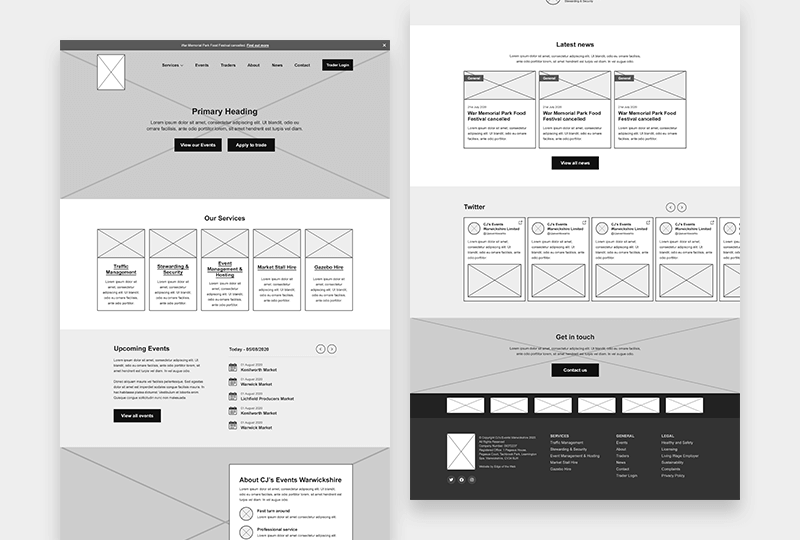 This isn't to say that poor UX is always the fault of the original design - a lot of the time it's more of an organic problem. The website has grown, the business has changed, and that can naturally change how people interact with the website.
UX can absolutely be outgrown, and when that happens, you need to think about getting a new website, and planning out your customer journeys from scratch.
If your website is not responsive then you absolutely need a new one. Right now!
Almost everything Google does, from rankings to page speed analysis, is based on a mobile-first approach. That means your website's mobile performance is more important than your desktop performance when it comes to SEO.
It's also such a normalised way for people to browse the internet, that you could be losing out on a huge audience by failing to provide a good mobile experience.
And a good mobile experience is more than just stacking the elements from your desktop site.
It's important that your design agency puts time and effort into designing mobile and tablet views. You need to ensure that content is accessible, that processes and functions are simply without needing a mouse, and that the pages are fast loading.
A non-responsive website is bad, but a poor mobile experience isn't much better. You need an excellent mobile experience to make the most of your website in terms of both UX, and SEO.
It's likely that one of the most significant KPIs for your website is going to be the conversion rate. How many visits to your website are turning into leads, sales or sign-ups?

Now, this metric is a tricky one. There's no real barometer for what a "good" or "bad" conversion rate is, as it depends on your industry, your definition of a "conversion", and of course your place in the market too.
But if your conversion rate is falling - that is a BIG sign that your website's performance is falling too.
A high bounce rate is another sign that your website isn't performing very well - especially if it's on the rise.
Common problems that cause a high bounce rate are poor UX, where users don't know where to go next, and long load times, which make people click away before they've even loaded the page.
If you have a high bounce rate it doesn't necessarily mean that you need a new website, but it's a good factor to look at alongside your page speed and UX. It's a good way to see if those two metrics really are having a negative effect on your users.
When was the last time you did keyword research?
Last year? Last redesign? Never?
Keyword research is something that is absolutely essential to the success of your website, your SEO, your PPC and your marketing campaigns.
Without keyword research, you're just guessing at what people search for. You might be targeting keywords with huge competition that you'll never rank for.
You might be targeting keywords that no-one ever searches for.
You might even be targeting keywords that don't match your products or services.
Even if you're working from keyword research that was super successful in the past, that doesn't mean they will always be the best target keywords.
Competitors get smarter, users have different concerns, your business offering changes - pandemics happen! Keyword research is never a one-shot deal, so even if you're confident of your target keywords, a redesign is an opportunity to make absolutely sure.
The internet should be for everyone, so website accessibility should always be part of any website project. But unfortunately a lot of people have overlooked it until now.
Now, more people recognise that it's essential to have a website that disabled visitors and people with visual impairments can easily use.
Not only is it the right thing to do - it opens your business up to more users as well.
---
Why do I need a new website?
If your website is slow, difficult to use, and providing a poor UX or mobile experience, then chances are it's time for a redesign.
The fantastic thing about a website redesign is that you get to use all the knowledge and data that your current website has built up over the years to create a new, improved website.
It means you can plan out your content and user journeys, re-evaluate your keywords and website structure, and take into account all the changes your business has gone through since your last website launched.
We love to take websites to the next level, so if your current website is experiencing any of these issues, or if you're simply ready to do something more, we'd love to hear from you! Find out more about our web design services or request a quote below.