A lot of online marketing, from SEO to social media, depends on targeting the right keywords.
But finding the right keyphrases takes more than a single approach or tool. In fact there are a range of different keyword research strategies you can use.
In this guide, we're going to look at 6 really effective keyword research techniques that you'll want to use when you're looking for the right targets for your digital marketing campaign.
We'll look at:

Why keyword research is so important
Keyword research is the foundation of all SEO, content marketing and PPC campaigns.
It'll help inform your advertising campaigns, editorial content and even your website's anchor text for interal linking.
Even if you put together a fantastic strategy for your online marketing, it's destined to fail if you've not started it off with a good keyword research methodology and analysis.
That's because keyword research is the process of finding out what you should be trying to rank for.
For example, it's easy for us to assume that our own website should be trying to rank for the term "website design". But how do we know that our potential customers are actually searching for this term?
What if every single one of our competitors is also focusing their SEO efforts on this term?
What if the people searching for "website design" are actually looking for templates, not a bespoke web design service?
The best keyword research methods do much more than just find a bunch of terms that people might be searching. It also involves careful analysis of those terms to find out if they really are good targets for your SEO.
The key elements of keyword research that will help you identify the right target phrases are:
Volume - the number of people searching for the keyword or phrase
Competition - how hard it is to rank for that term
Search intent - whether your website is a relevant destination for people making that search
To find the right target keyword, you need to understand these three elements, and use them to identify a range of phrases that are most likely to bring you the most relevant users with the least effort.

Keyword research methods
There are actually a lot of different types of keyword research, and most keyword research tools will focus on one specific area.
But the best way to get a really good range and variation in your keyphrases, is to look at different ways to find the right SEO keywords.
That's because this kind of research isn't just about finding the phrases with the highest traffic.
It's about being able to find the keywords that combine those three essential elements of volume, competition and user intent.
This is all about generating as many keywords as you can, including variations and combinations of different keywords and phrases.
But of course, you don't just want to end this process with a massive list of all possible keywords, you want to be able to refine that list down by identifying the terms with low competition, and high search volume.
It's essential that any keyword research tool that's designed to give you bulk or broad match keyphrases also shows you the number of people searching for each term, and a keyword difficulty or competition score too. But you'll also need to apply analysis to each term to judge the search intent.
Keyword analusis for SEO is one of the most significant skills to learn when you're doing digital marketing. It's not just about checking volume and difficulty, and it can't be done on just data alone. Keyword search analysis usually requires experience, insight and knowledge of the industry to be truly effective.
With search term analysis, we're looking to check that the terms we've identified are truly appropriate for the page, website or service we're offering.
Simply targeting any keyphrase with good volume and low difficulty could leave you with lots of visitors on your website, but without matching their search intent, those visitors are not going to engage, they're simply going to leave.
And that can be a negative sign to Google, which could hurt your rankings in the long run.
So make sure your keyword research for SEO looks carefully at the intent behind each search, so you can be confident you're providing the right content, product or page for that keyphrase.
When you're looking for the right keywords, your competitors can be a great source of inspiration.
Not only can it show you what they're ranking for but you're not, it can also show you the gaps in their keyword strategies.
And, most of all, it can show you the keywords that are bringing lots of traffic to their site.
Understanding how successful websites in your industry are targeting their SEO efforts is a good way to get to grips with the strategies that are already working.
The whole point of keyword research is to find out what people are searching, right? So crowdsourcing keywords is a way you can find out what people are actually talking about.
This is often a good way to look for content marketing ideas, or to identify new keyword opportunities that you've not considered before.
One of the best sources of keywords is Reddit. Reddit is a platform where people group together to talk about subjects that interest them.
There are groups for almost everything, from investing in the stock market, to in-depth discussions on the Marvel Universe.
This makes it particularly useful when you're doing niche keyword research, as it may identify language and terms used by your target community that you weren't aware of. So finding out what those people are discussing, and the language they use can be a gold mine of significant keywords as well as interesting content ideas.
And Reddit is far from the only place to look. Search for industry forums and discussion boards, social media feeds and pages and find out what customers and competitors are talking about.
Long-tail keywords are usually longer phrases with a lower search volume, but also a much lower difficulty.
That means that they can often be a good way to create content that can rank pretty well without a lot of effort - but that fewer people are actually searching for.
Another wonderful thing about long-tail keywords, is that because they are a lot more specific, it's often easier to find and target the ones that perfectly match your user intent.
Long-tail keywords are also particularly useful for content marketing strategies, as you can often find clusters of similar long-tail keywords that can help you build a useful, relevant article that can rank well.
Search Engine Results Pages, or SERPs, are a brilliant way to find new keyphrases - and there are lots of different ways to do it too.
Find keywords with autocomplete keyword
Your first opportunity comes from autocompletes. If you type one of your main keywords into Google, it's going to suggest a whole range of words to follow it.
And remember, Google is offering those suggestions based on what users are actually searching for. So it's a great way to look for terms that are popular right now.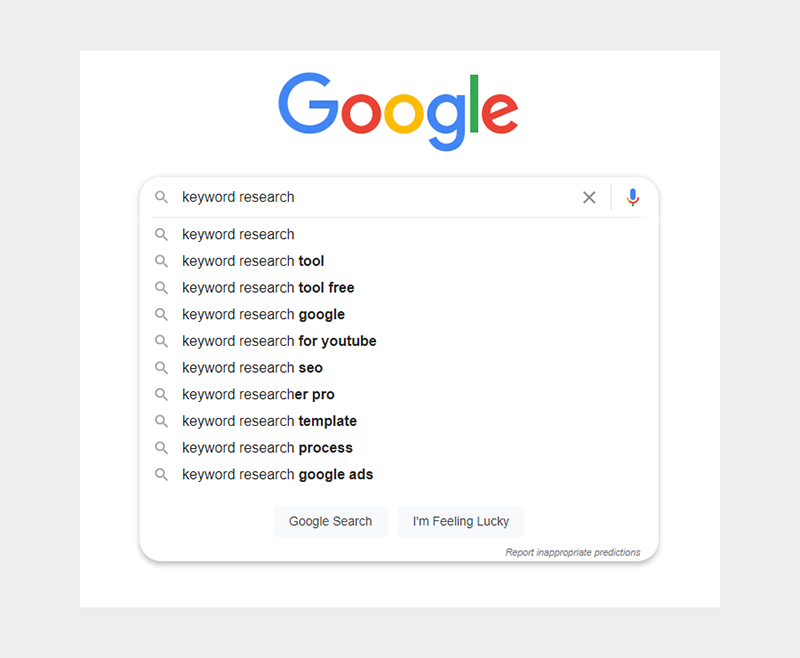 Autocomplete keywords can be gathered from a lot of different websites beyond Google too. Try out Bing and Youtube to find even more suggestions.
People Also Ask keywords
People also ask is another great way to come up with ideas for keywords. Ranking for one of these terms can help your page leapfrog the organic listings if Google thinks it's relevant enough.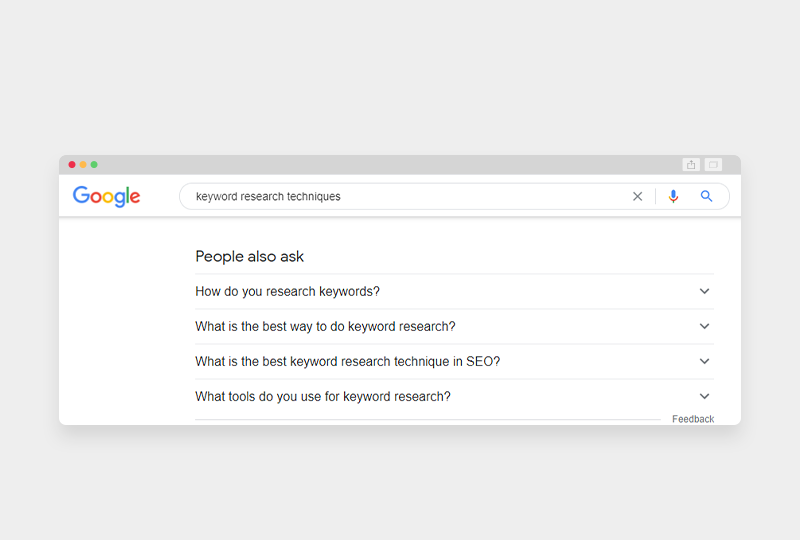 Related Searches
Right at the bottom of the search results page, you'll also get another great source of keyphrases - from the Related Searches section. These are all the terms that Google associates with your original search.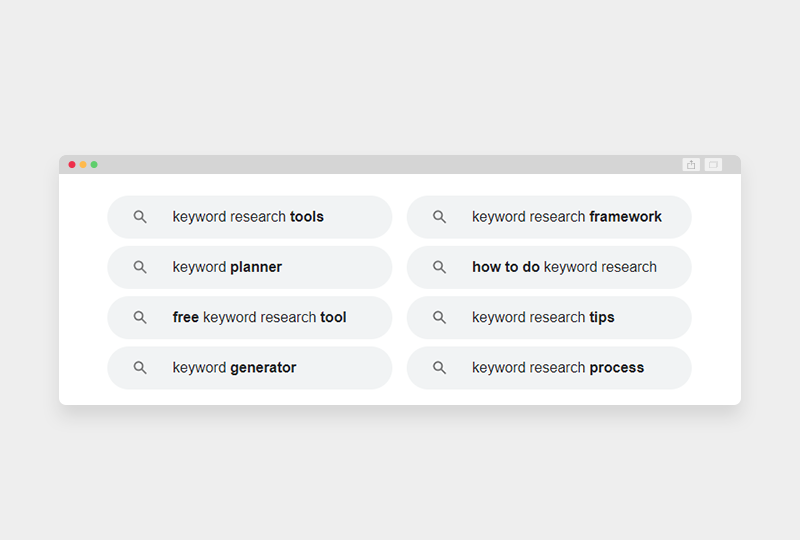 Finding out what keywords are actually gaining popularity can be a massive help in your keyword research.
Often when you're using a keyword research tool, the volume is based on the average number of searches over a period of time.
That means that you could be looking at a high volume keyphrase that's actually dwindling in popularity.
At the same time, you could be looking at a keyword with a low volume, because people are only just starting to search for it.
You can gain a lot of traction from targeting a keyword just as it starts to rise in popularity, before it starts to get competitive.
A good tool for this particular keyword searching technique is Exploding Topics. This website identifies terms and phrases that are just starting to get popular. It's a great way to capitalise on upcoming trends that others haven't yet uncovered.
Keyword research services
Of course, if you need an expert's advice for your keyword research strategies, you can always look for a keyword research service.
This is often a great alternative to having to invest in keyword research tools and software, not to mention the time and effort of going through large lists of keywords trying to identify relevant terms.
A great SEO agency should provide keyword research as part of their offering, but you can always ask if they provide it as a standalone service too.
The best keyword research techniques
These 6 keyword research techniques should give you a wide range of different keywords, and more than that, help you find the best ones to target for your online marketing campaign.
Remember that the best research process is one that looks at all the options before whittling them down to the best opportunities.
Want to learn more? Check out our guides to website copywriting and local SEO.
And if you're looking for a digital marketing service that can help you find the right target keyphrases for your SEO campaign, we'd love to hear from you!
Get in touch
Got a question or need some help with your next web project? Our creative team is here to help, and we'd love to hear from you.