Local SEO is one of the best ways to help a small business succeed in the search engines, and one that lots of SMEs actually overlook.
But with so many smaller companies targeting their local area, this type of optimisation is often the easiest to improve, and the most impactful too.
This local SEO guide will help you get to grips with all the basics of local SEO optimisation for small business, including:
By the end of this guide, you should understand all the basics of local optimisation, and be confident in creating a plan to maximise your local presence online.
In this article, we'll be focusing specifically on local SEO for UK small businesses. If you want a wider introduction to the concept of search engine optimisation, we recommend starting with our Beginner's SEO Guide.

What is local SEO?
Local SEO is how you optimise and market your website to rank better for local terms and to customers in your area.
It's one of the best ways to focus on potential customers who are most likely to be interested in your services, shop or product, and can help you leapfrog your way up the local rankings by being included in SERPs and local map packs.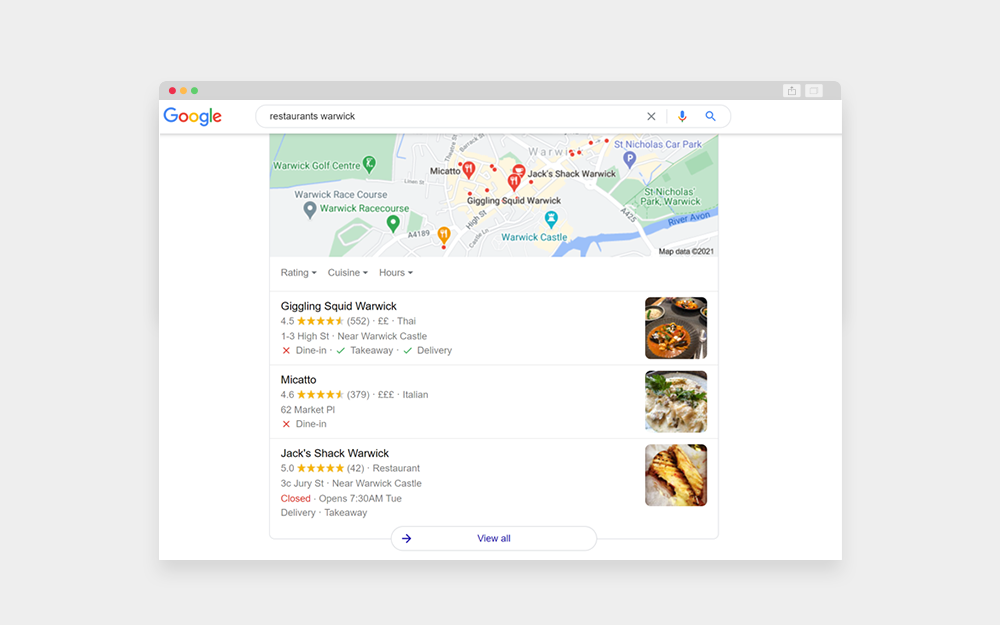 Why is local SEO important for small businesses?
Small businesses are the most likely to be reaching out to a local audience. That means local SEO is the MOST significant way to improve your online exposure.
If your target customers are mostly local, then it helps you focus on the people most likely to be interested in what you're offering.
By putting your efforts into local SEO instead of a more generic marketing campaign, you're also making sure that you're not bringing in leads from areas you don't cover.
After all, what's the point of getting a click from Greenwich if your shop is in Glasgow?
It's also a great way to improve your local reputation and recognition. Even if a prospective client isn't specifically searching for a local business, good local SEO means you're still more likely to appear in the map listings for them, based on their current location.

Where do I start with local SEO?
Before you get started, it's important to get the basics right first and ensure that you're happy with your small business branding and online presence.
Once you're happy with your website and you want to share it with the world, that's when local SEO can help you reach more relevant customers, more quickly.
Local SEO can really help your website and your business, but it isn't a magic bullet. Just like most other forms of optimisation, local SEO takes time and effort.
But it's also one of the most effective places to spend that time and effort if you're a small business dealing with people and companies locally.
Just like with all other forms of SEO, the best place to start is with some keyword research.
You'll want to get together a list of keywords to incorporate into your SEO copywriting. Have a look at what local keywords you're currently ranking for, their search volume and competition so you can identify which are going to be the best targets for your efforts.
Remember that your local area isn't just the exact town your office is located. For example, we're based in the middle of Warwick, but we still want to reach customers in the surrounding areas, like Leamington, Kenilworth and Coventry. You might also want to look at wider areas, like your county or region as well.
It's also a good idea to do some competitor research, and see what keywords your local competition is ranking for, and how they're presenting themselves online too.
All this knowledge is going to help you put together a plan that really makes an impact.
Now you're armed with some knowledge and a list of target local keywords, the next stage is to look at your website's current technical SEO performance.
This is really important for that second pillar of Local SEO - Prominence.
If your website has poor on-site SEO - if it's slow, if it has accessibility issues or it's poorly optimised then Google isn't going to want to promote it.
It means you're starting your local SEO efforts at a severe disadvantage.
So you want to make sure that your website is perfectly set up for your ongoing local campaign, and use your target keywords in your content, site structure and meta titles and descriptions.
It's worth considering whether ongoing website maintenance is right for you too, to continually improve your user experience and keep on top of issues which could affect your website's usability or security.
Your Google My Business, or GMB, listing is one of the most important things to consider when working on your local SEO.
You'd be shocked how many small business owners don't make use of GMB, putting them at a serious disadvantage when trying to reach local customers.
Your first step is to claim your GMB listing, if you haven't already, and then to verify your claim. This is basically so Google knows that this business belongs to you, and they can authorise you to edit it.
Making the most of your GMB listing helps enormously with local SEO, as it gives you a better chance of ranking in local SERPs, Google Maps, and in the organic listings too.
So once you've claimed your business listing, the next step is to fill out as much information as you can.
This listing is going to be one of the best weapons in your local SEO arsenal, so you want it to be as complete as possible, and as engaging and relevant to searchers as possible too.
Key features of your GMB listing:
Your business name, address, phone number and website
Business category
Opening hours
Questions (posted by users)
Reviews and star rating
Photos
Posts
It's important to fill out as much of this as you can, and make sure you keep it up to date by adding new posts, responding to questions and inviting customers to leave reviews.
Citation building is another one of the most important elements of SEO. "Citations" exist on third party websites and directories, and list the NAP details for your own business.
NAP stands for Name, Address and Phone Number. And it's this information that Google looks at to determine that your business really does exist where you say it does.
But you don't just want any old local citations, spammy directories aren't considered to be reputable sources, so it's important to target sites that search engines trust, as well as those that are relevant to your industry or location.
In the UK some of the best places to check your NAP citations are present and correct are:
Google
Facebook
Yell
Bing
It can also be good to look at national newspaper directory listings and, depending on your type of business, there are some other fairly obvious places you'd like to have citations on, such as TripAdvisor for anyone in the food, entertainment or hospitality industries.
Other good targets are local websites and industry directories, as they're considered to be more relevant to your business and more trusted sources.
When it comes to creating your citations, there is some discussion about whether your Name Address and Phone number have to be in the exact same format each time to be considered a match.
For example, if you listed your business as being at 3 High Street, is 3 High St. going to be counted as a correct citation?
Our advice is - don't take the risk.
Make sure you're using the same format each and every time you add your NAP details to another website. That way you absolutely know your citation is being picked up correctly.
Building up your online reputation isn't all about tinkering around online. Some of it depends on having good relationships with your customers.
"Social proof" is where your reputation is reinforced by the public, and the best way to achieve this is through reviews.
Getting positive reviews online will show Google that you're a reputable business and does affect your local rankings.
But much more than that, it's also a brilliant motivator for your target customers.
Users are infinitely more likely to choose a business with a high rating from Google reviews, than one with a low rating, or worse, no reviews at all.
One of the important things to remember when you're gathering reviews, is to make sure you respond to them - especially if it's a bad review.
Don't stress too much if you do get a negative review. Businesses are made of individuals, and people don't always get it right.
A polite explanation or apology when someone has had a bad experience goes a long way. Personally, I'm one of those people who always reads the bad reviews first, because they often give you a better picture of someone's service.
If a bad review is followed by a response that is sympathetic, understanding and authentic, I know that even if something goes wrong, you're going to do your best to put it right.
In fact, some users might even think a 4.9 rating with a handful of negative reviews - which you have responded to - is more trustworthy than a perfect 5.0 star rating.
So don't be afraid to get involved with your reviews. Making the most of them can often be the catalyst that makes a customer choose you.
Something else you may want to consider for your on-site optimisation, is creating dedicated landing pages for different locations.
This is really important if you have offices, shops or restaurants in different areas. It's also helpful if you want to attract people from several towns or cities.
By creating dedicated landing or doorway pages for each of these places, it means you can dedicate your on-page SEO efforts specifically to that location.
So instead of trying to get your homepage to rank for web design in Warwickshire, Coventry, Warwick and Leamington Spa, you can direct people looking for web design in Coventry to a dedicated Coventry page, and those looking for services in Warwick to the Warwick page.
One thing to be really careful of if you take up this option, is to ensure that you are not just using the same content for each page and swapping over the names of the towns.
You might think it saves you time on writing, but believe me, it wastes all the time you spent creating the page in the first place!
Each page should have its own unique content tailored toward that specific location. And if you actually have a physical presence there, like a cafe or store, then make sure you have the address, phone number and a map integrated for each one.
You can also use your social media accounts to help with your local SEO, by getting involved with other local businesses and events, and by using local hashtags in your posts.
Facebook is one of the most popular social media sites to target for local SEO. It is a reputable platform for citation building, can help you get great reviews, and is a really good place to promote services, special offers and more, getting you some good backlinks to your website.
But don't forget that social media is really all about community, and engaging with that community is also a really natural way to network. You can get your name known by local customers and businesses, boosting your brand recognition in the area.
Another thing to consider for improving your local SEO, is to do some content marketing that specifically targets the local area.
You do really want to be careful about this, as you don't want to come across as spammy, so it's important to plan out these articles carefully, and make sure they're really relevant to your business and your customers.
A great example would be if your business takes part in local events, whether that's having a stall at a local market, or being involved in local business awards.
Writing articles about your involvement in local events is a great way to show your engagement with the community, and also to rank for some nice, relevant local keywords too!

Your local SEO project plan
Now you've got a good idea of what local SEO is, how it works, and the positive effect it could have on small businesses, you've got all the tools to create your own plan for tackling local search engine optimisation.
Pick and choose the strategies and methods that you think are going to work best for your business, and make sure you've done your research before you get started. You definitely don't want to be making decisions based on just your gut feeling.
Remember that all SEO is a long-term operation, not a quick fix. But a good local SEO campaign could be the easiest way to reach the customers who are most important to you.
Ready to wade into the wider world of SEO? Check out our Beginner's SEO Guide, or learn more about the additional digital marketing and local SEO services we offer.