If you're a small business looking to boost your local SEO, you need to be using your Google Business Profile, previously known as Google My Business, or GMB. More than a social media profile or business directory, it's a powerful free tool that can help improve your search visibility in a range of ways.
In this post, we'll be digging deeper into the benefits of your Google Business Profile, and how you can use it effectively to help your business. We'll look at:

What is a Google Business Profile?
Your Google Business Profile was previously known as Google My Business, and is a free business listing service provided by Google. It's widely used by businesses and for good reason. While every directory listing may contribute a little to your SEO, your GBP can have a huge impact, and even smaller businesses can gain prime real estate in the Google search results if they set their profile up correctly.
Sometimes, you might find that your business profile has been automatically generated and is already displayed in certain areas in the search results. But, by setting up an account and claiming your page, you'll gain full access to that profile so you can populate it with more company information, respond to reviews and even create posts.

What does a Google Business Profile look like?
You'll come across GBP profiles regularly on Google search. They can show up on the results page in a few ways and they all look slightly different. The most common ones are:
Local pack
Perhaps the most well-known, this is displayed right at the top of the organic search results when performing a local search, giving your business prime real estate in the local search results.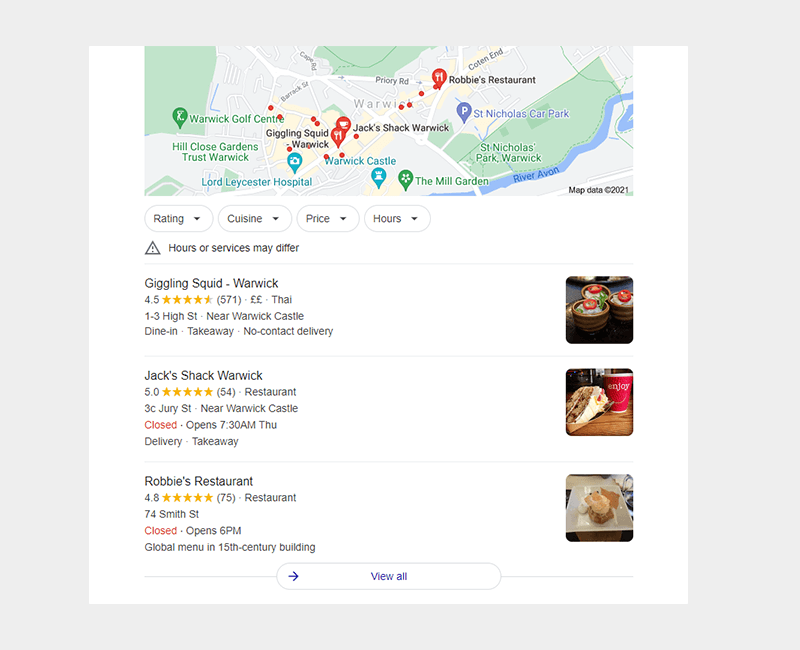 Google Maps
This is a very useful feature if your business has a physical location. Your business can appear here for people looking for directions in your area, or for those searching specifically for businesses nearby.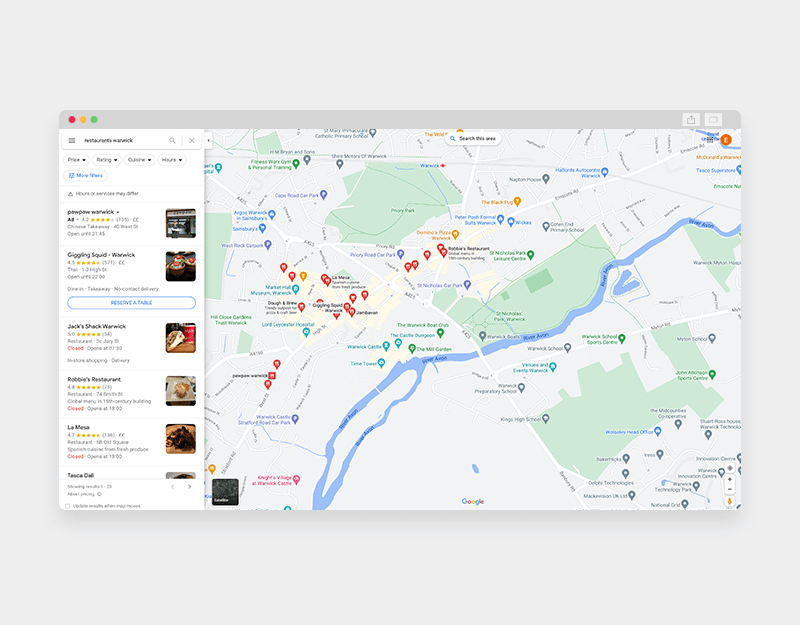 Knowledge panel
This information box appears on the top right of the search results, usually when a customer searches for your business specifically. It allows you to provide more information for them right there in the search results, including your services, opening hours, contact information and reviews.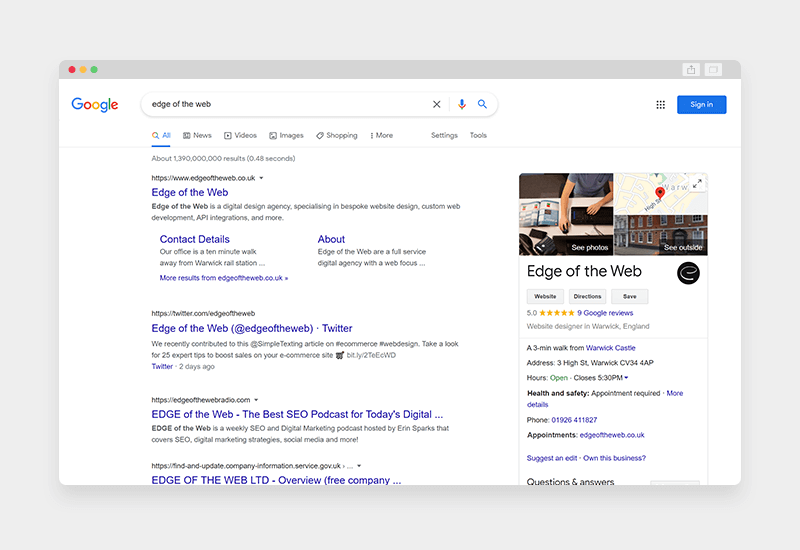 What are the benefits of GBP?
Using your Google Business Profile can have a whole host of benefits for small businesses taking their business online.
Google local business SEO
If you've read our guide to local SEO, you'll know that the three pillars of SEO are proximity, prominence and relevance. Your GBP can help with all three, providing you with a more prominent position and reaching those in close proximity to your business searching for relevant businesses or services.
If you're not using your Google Business Profile, you're missing a huge opportunity to appear in the local pack. Plus you may not have a knowledge panel, it could be partially complete or, worse, auto-filled with incorrect information.
With GBP, you'll also gain some additional SEO insights. Google will tell you what search queries have been used to find your business profile and provide data about the number of users who have clicked onto your website, requested your phone number or looked for directions to you. All these insights into your audience and engagement is great information to arm yourself with to grow your local SEO campaign.
Google business page SEO
It doesn't just provide a local SEO boost - GBP can also have a direct impact on your wider SEO efforts, including conversions. It's one of the most visible places for customers to read reviews of your business and, with a strong Google Business profile, customers can convert right there in your listing. They can choose to get directions to your destination, call your business or visit your website. And you'll get all the data on how they've converted in your GBP insights.

How to create a Google Business Profile
Your first step will be to set up or claim your GBP listing. If your business doesn't have a profile, you'll need to head to google.com/business to get started.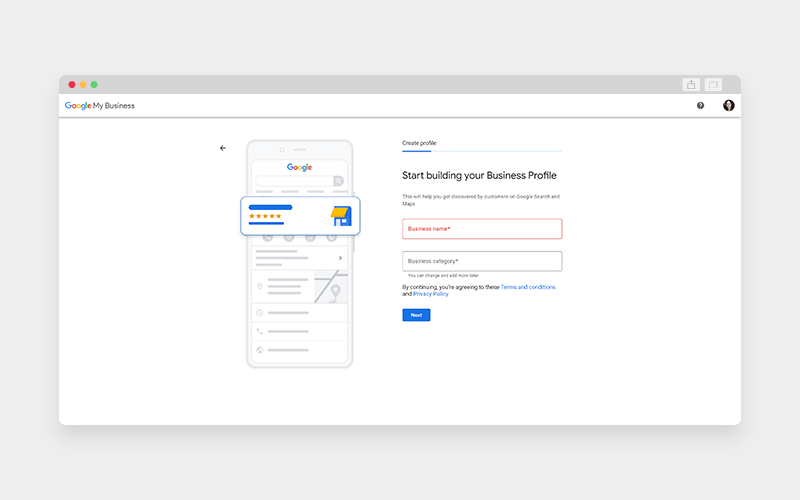 To set up your page, you'll need to complete a few key details such as your business name, category and location - we'll go into them a bit more later on. You'll also need to verify your business, which can be a little trickier.
How to verify a Google Business Profile
Google should offer you a few ways to do this.
By post - Google will send a postcard to your business address with a verification code
By phone - Receive your verification code by telephone to your business phone number
By email - Receive your code via email
The available options may vary, and some businesses also get the option for instant verification. But you may well need to do it by old fashioned snail mail. The card should arrive within four days, at which point you'll be able to go back and enter the code to gain full management access to your profile.
Claim an existing Google Business Profile
If your business already has an account, you'll need to request ownership in order to manage the page. Your request will go to the current page manager to respond to. Once you've gained access, you may still need to go through the verification process.

How to update my Google Business Profile
Once you've created or claimed your page, it's time to make sure that your Google Business Profile is as complete and accurate as possible.
Some things you should think about when completing your information are:
Business name - this should match your real-world business name. Avoid stuffing keywords and locations into your business name, as you could be penalised by Google for this.
Business type - there are three types available:

Storefront - businesses with a physical location such as shops, cafes and restaurants.
Service area business - a business that provides services within a certain area. You'll get to select all the regions you cover, and you may or may not have a physical location that customers can visit.
Hybrid - a business that both has a physical location and serves a wider geographical area perhaps through a delivery service or online orders.

Google Business Categories - you'll get to choose a primary category and secondary categories. Your primary category is the main one that will be visible on your listing, but the secondary categories allow your business to show up for relevant searches.

This is an incredibly important part of the process, as it's the biggest sign to Google about what you think your business is all about. So make sure you research the categories carefully, and select the most relevant main and sub-categories for what you offer.
Business information, products and services - complete these in as much detail as possible. This is an opportunity for you to optimise for SEO based on keyword research. Make sure you avoid being spammy, but try to incorporate some of your keywords naturally in your business description. Listing the variety of services available from your business is a great opportunity to target longtail keywords too.
Images - If you have images to represent your business, make sure you add them! According to research by Search Engine Land, businesses with more photographs receive more website visits, calls and direction requests. These can also be optimised through the image description and even the file name.

For example, we might name an image of our office "web design agency in Warwick". This ensures the visual content is optimised for search, provides context and makes it more accessible for visually impaired users with screen readers too.
It's time to start posting! Posts are often an overlooked feature when it comes to Google Business Profiles, but they allow you to make more of an impact with your profile and promote specific news, events and business offers. Remember, your latest posts often show up in the knowledge panel too.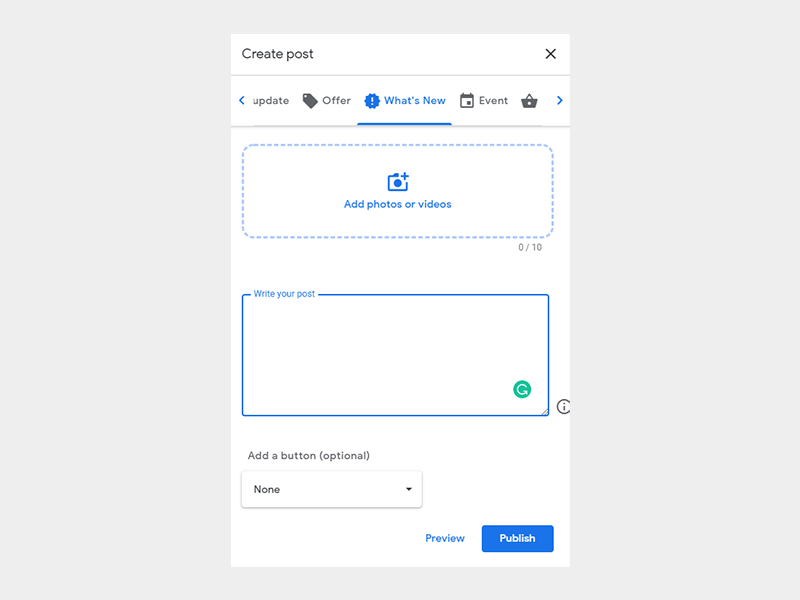 There are four main types of post you can create:
Updates
This is the most general type of post, allowing you to share general updates about your company, news or blog articles. If you have a content marketing calendar in place for your business, you might be able to use this content as the basis for your GMB posts. You can add images or video and a call to action button and link back to your website.
Events
You can post about a physical or virtual event to help promote it, and you'll need to add an event title, date and time.
Offers
If you're running a special offer, make sure you shout about it on Google Business Profile! You can add a discount code, terms and conditions and link to a landing page for your offer. Make sure it's a genuine special offer and all the information included is accurate, and set an expiry date if it has one.
Products
This is a great option for businesses with set products they want to sell. You can add a photograph, description pricing and a link to purchase or find out more about individual products. They'll appear on your products tab.
GBP posts have a 1500 character limit, but it's generally best to keep them direct and to-the-point. There's no need to use hashtags on this channel, but feel free to experiment with emojis and different CTAs.
While the direct effect of GBP reviews on SEO is debated, there's no doubt they help with your business's prominence and trustworthiness. And, we know that Google values trustworthiness highly when it comes to ranking websites.
Any reviews your customers submit will be displayed on your profile, with snippets in the knowledge panel below your company information. So, make sure that you're collecting them whenever you can, and responding to them too. This could be by way of an automated email after purchase, or signs encouraging customers to leave a review in your physical location.
Once you have a GBP profile, anyone can submit or answer a question about your business. But they're really something you should be maaging yourself - they're an opportunity to clarify and expand on your offering, incorporate your keywords and answer common questions you get from customers.
You could even go a step further and create your own FAQs right there in your Google Business Profile, by asking and answering your own questions. These show up on your profile and knowledge panel, so they're worth taking advantage of to share a little more about your business and answer common queries.
Google Business Profile performance
Simply setting up a GBP page full of informative, keyword-rich information can vastly help improve your business's presence on Google. But it isn't there to be set up and forgotten about.
Having a presence on Google is the first step, but to excel you should keep revisiting your page, and engaging with your audience by posting news and offers and responding to reviews and customer questions. Don't forget to monitor your page's performance too, and understand what terms your business profile is ranking for.
It's a great idea to set up a regular GBP or Google My Business Audit, so you can keep your profile up to date. Or if you're not confident, or simply don't have the time, you can look for a Google My Business management service, and get an expert to optimise and update it for you.
Looking to improve your local SEO? Or if you'd like some additional help to get started, get in touch with our team to find a local SEO package that's right for you.
Get in touch
Got a question or need some help with your next web project? Our creative team is here to help, and we'd love to hear from you.