Landing pages are something you'll hear about a lot in digital marketing and web design. When used right, they're a great tool to support a marketing campaign and generate leads or conversions.
But, if you're new to digital marketing, it might seem a little daunting to create and use these pages effectively. In this guide to landing pages, we'll walk you through the basics including how and when to use them and some tips for landing page optimisation.
We'll look at:

Simply put, a landing page is the first page the user lands on when they visit your website. They may have arrived there from an email marketing or social media campaign, a PPC advert or from the organic search results.
But usually, in marketing, these are standalone web pages created for a specific purpose. These pages should be much more targeted and focused than your homepage, with a clear purpose and intended user journey. They should encourage your visitors to take action.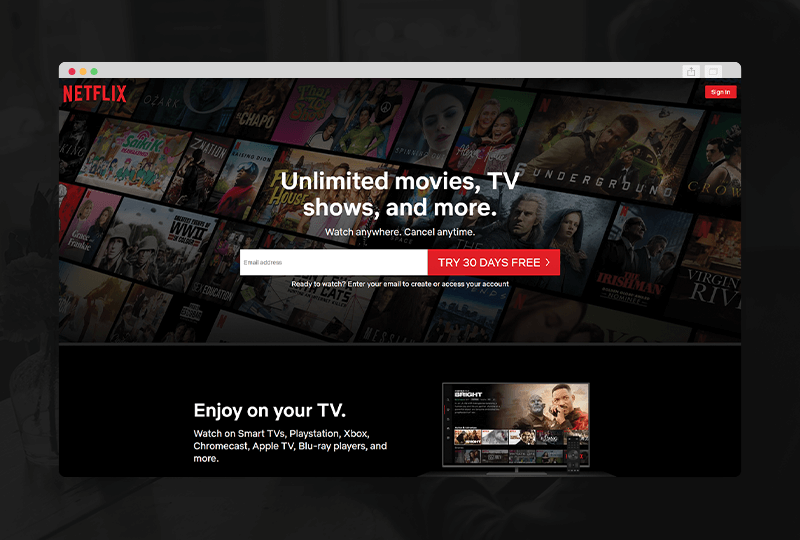 You'll likely come across landing pages all the time as you browse the internet. One popular example is from TV giant Netflix. This minimalistic page is aimed at new visitors and encourages sign-ups with a clean, simple CTA taking front and centre.

The specific purpose of a landing page may vary, but as a general rule of thumb, they aim to increase conversions. Unlike other pages on your website - which will likely have a diverse range of actions the user can take - your landing page should have a focused call to action. It should eliminate distractions and ensure you have the users' undivided attention.
The landing page goal will vary depending on your business. Some might include:
Sales
Lead generation
Email sign-ups
Free trial sign-ups
Event or Webinar bookings

We've talked about the different end goals a landing page may have, but how do your customers get there in the first place? Here's a few instances when you might like to use them on your website to strengthen your conversions.
SEO landing pages
When you want to target new keywords in your SEO campaign, you might set up new landing pages to achieve this. For example, a local plumber might create a local SEO landing pages to target specific regional areas and encourage enquiries from customers in those areas. This way, the page can be much more targeted towards that particular region and really encourage those local visitors to take the plunge and make an enquiry.
PPC landing pages
Landing pages are often used in paid advertising campaigns. If you've targeted specific keywords in your Google Ads campaign, you want to send users who click through to a page which is as specific and tailored as possible.
For example, if we were to run a campaign promoting our SEO services, we would choose to direct users to land on an SEO landing page, rather than the more generic homepage. This helps make sure you're not wasting opportunities by directing your clicks to pages that are less relevant.
Campaign landing pages
Yes, this sounds quite vague because a campaign might cover all sorts of things. You could be running an offline campaign and include a QR code in your physical location, or a URL on a flyer or a TV ad. It could be a link from a social media post or email marketing campaign. Either way, if you've engaged with your customer enough to get them to visit your landing page, make sure that you keep them there and make it clear what you want them to do next.
Thank you landing pages
Thank you landing pages - or success landing pages - are a little different. These are specific pages your user is directed to when they've taken action, perhaps from the initial landing page. It could be a page to say "thanks for subscribing" or "thanks for your purchase".
Adding thank you pages can help in a couple of key ways. Firstly, you could encourage your visitor to take further action to build their relationship with the brand - like if they've just made a purchase, you could encourage them to subscribe to your email newsletter or download a guide to using the product.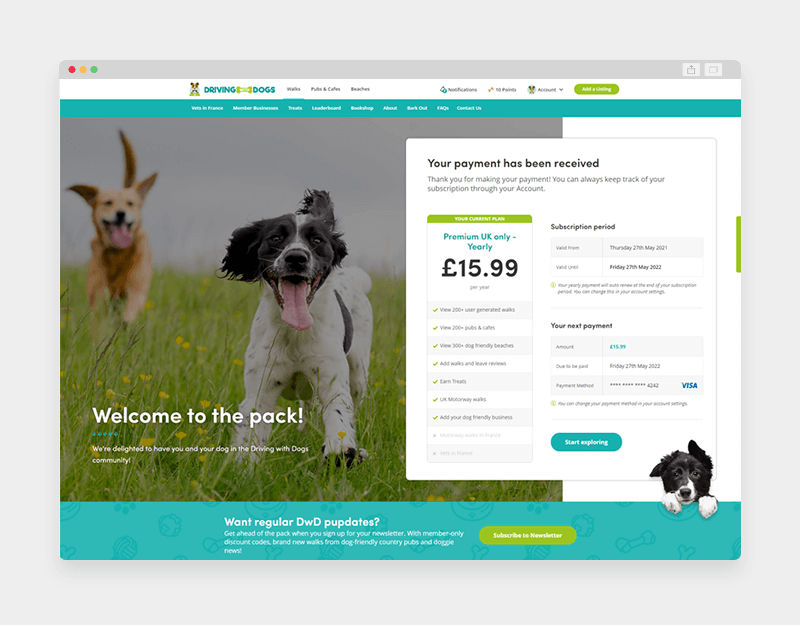 As you may have guessed by now, the exact components of a landing page will vary depending on your business and its purpose. But there are a few guidelines and landing page best practices that can help you along the way.
Landing page design
Your landing page design should be clear and concise. You want to cut out distractions and unnecessary steps, to focus on the action you want your users to take. Many designers opt to remove or minimise the usual website navigation bar along the top to keep users focused on the page.
Make sure you also consider key landing page components like the header image, call to action and any forms to keep them as concise as possible too. Every element of your should be designed to enhance the user experience.
Landing page content
It's a similar story for the content - landing page content should be short, snappy and user-led. You might feel the need to include additional website content to sell your product or service - this is fine, but just make sure that any content focuses on what you can do for the user, and tells them why they should take that next step to convert.
If you're selling a product that is difficult to explain with text alone - for example, software as a service - consider using video content to convey the message instead. Videos can help to inspire trust and keep your users on the page for longer. Don't forget social proof and reviews when you're considering your landing page content too.
Landing page CTA
The one essential component of any landing page has to be a strong call to action. This should be prominent and eye-catching, and your content and images should help draw the viewer's eye to it. Consider the text and colours for your CTA carefully, and you might want to try using contrasting colours here to really make it stand out.

So, you've planned your campaign and put together a page you think has all the necessary components for success. Now isn't the time to sit back - it's time to monitor and measure your landing page performance and look out for opportunities for improvement.
Landing page bounce rate
Bounce rate is a metric you'll see time and time again. It's one that should generally be taken with a pinch of salt, but it is definitely worth considering when it comes to your landing page engagement.
If people are leaving your new page which is tailored to push them further down the funnel, you need to consider why that might be. Were they simply not ready to commit to a purchase? Are you targeting the wrong people? Or is there more you could do to improve the page? Check metrics like time on page and average sessions duration for a wider overview of visitor engagement too.
Landing page testing
If engagement or conversions aren't as high as you'd like, landing page testing can help you identify ways to improve your conversion rate. A/B testing your website allows you to present users with two versions of the same page, with a slight variation, to see which performs better. You could try testing the CTA, content, header image, button colours and more - the possibilities are endless.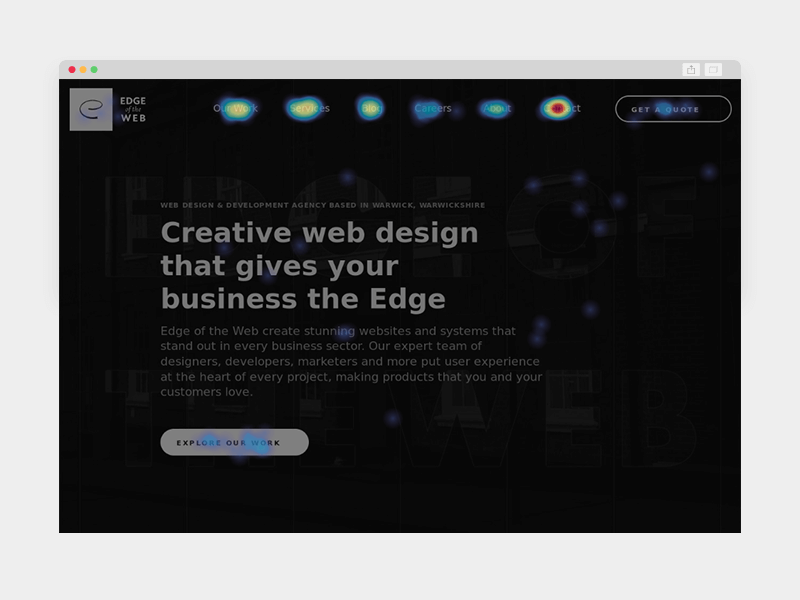 Landing pages that convert
The most important landing page metric is, of course, conversions. Whether it is an email sign-up or an ecommerce sale, you should be tracking these carefully in Google Analytics.
There's no magic number for conversion rate - it'll vary depending on a whole range of factors like your industry, product and user journey. But a good place to start is to compare the conversion rate of your landing page to your overall site average - if you're doing it right, your landing page should be converting at a higher rate.

Landing pages can vary, but there are a few key things to keep in mind when creating your own. Here are a few tips to ensure you're creating landing pages that convert:
Make sure your content is punchy and user-led. You want to drive your visitors to take action, not tell them your life story. But you do need to explain how taking that action will benefit them.
Include a strong visual focus and call to action. Ideally, the visual focus should draw the user's eye to the CTA - again, driving action.
You may only have a few seconds to make an impression, but visitors are much more likely to stay and convert if you build trust in your business. This might be through personal video content, testimonials or social proof.
The rules for landing pages aren't set in stone. So keep testing. Consider testing different colours, removing and moving elements, your text and CTA buttons - but make sure those tests are led by the data you have.
To create successful landing pages you need to understand your conversion rate metrics, so be sure to check out our conversion rate optimisation guide to get you up to speed. And, if you're looking for a marketing agency with a team of web designers, developers and marketers to help you create stand-out landing pages in your sector, we're here to help.
Get in touch
Got a question or need some help with your next web project? Our creative team is here to help, and we'd love to hear from you.