If you have any involvement in SEO or digital marketing, you'll know that it's an ever-changing industry, particularly when it comes to Google. The tech giant is constantly tweaking its algorithms and reforming its offering, and that's no different when it comes to Analytics.
On March 22nd, Google announced that they will be sunsetting Universal Analytics in July 2023, in favour of Google Analytics 4.
While that may seem a while away, it's already sent the search community into action and uproar. And, if you want to keep monitoring your website's activity, you'll need to take action too.
But, if you're not sure quite what all this means right now, we're here to help. We'll be taking you through what Google Analytics is, how it works and giving practical advice on how to make sure you have the latest version.
We'll look at:

Google Analytics is a web analytics platform from Google that provides a wealth of data and statistics on how users are finding and using your website. Since its launch in 2005, it's become an industry standard for digital agencies and anyone looking for website metrics and more information on how their website is performing.
Analytics will help you find out things like:
How many users are visiting your website
How long people are spending on your website - usually known as your session duration
Your traffic sources and channels that are driving traffic to your website E.g. Social media, email marketing and Google organic search results
Your most popular pages and landing pages
The demographics of your website audience and what type of devices they are using
And much more!

Google Analytics works using tracking code which you (or your web development agency) will add to each page of your website. This JavaScript tag allows Google to collect anonymised data from your users using cookies, and this data from individual users is then aggregated by Google for your Google Analytics reports.
But, as internet users become savvier and more privacy-focused, the use of cookies to store user data has come under scrutiny. Policies have been introduced to ensure websites are compliant and allow users to protect their privacy which could lead to an impact on your website data.
That's where GA4 comes in.
GA4 aims to be privacy-centric and uses a blend of first-party cookies and machine learning to gather data in a way that stays compliant.

Since 2012, Universal Analytics has been the default platform so it's likely you've used it in some capacity over the years. It was joined in 2016 by some of Google's other software solutions in the Google Analytics 360 software suite but, fundamentally, the way Google Analytics works has been the same for around a decade.
Until now.
Now GA4 is coming into play, and it's a big change from its predecessor. Here are some of the ways Google Analytics 4 is different to UA.
Privacy
As we mentioned, UA relies heavily on cookies, whereas GA4 doesn't. It's designed to be flexible and able to adapt to a future with or without cookies, and it supplements its data with machine learning to make predictions and forecasts.
Tracking and measurement
The largest difference between the two platforms is the measurement model they use. Universal Analytics based its measurements on sessions and pageviews - that's hits on your website within a given timeframe, and views on particular pages.
GA4's measurement model is based on events. Every tracked action is classed as an event in GA4 - so a 'pageview' in UA will now be a type of event in GA4.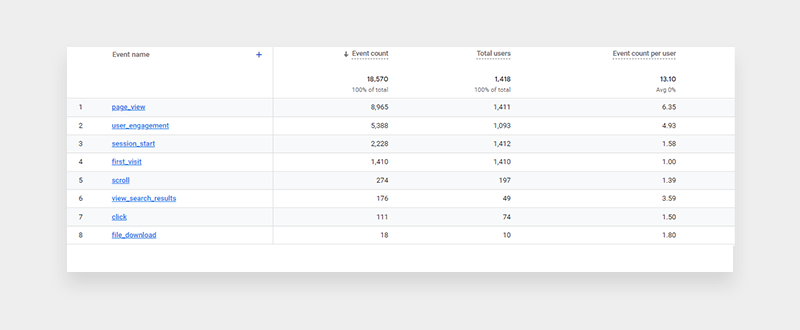 Event measurement
In UA, we're able to set event categories, actions and labels - for example:
Category - promo, quote request, contact us
Action - video play, video pause, button click, form submit
Label - product name, video title, page URL
But, not in GA4. In GA4, every action is an event, and these events can have additional parameters. You can use these parameters to drill down and get the specific information needed for each event type - and you can have up to 25 for each event.
Engagement metrics
Another BIG change that is likely to impact reporting is an upheaval in engagement metrics. In GA4, bounce rate is no more! Instead, we have a more detailed, accurate series of engagement metrics like engaged sessions, average engagement time per session and engaged sessions per user.

This isn't an exhaustive list of the differences between UA and GA4, but it should give you a good impression of how much variety there is between the two platforms. The best way to learn a bit more is to get started with GA4 for yourself!

GA4 released in 2020, so it's already been available to marketers for a while and now is definitely the time to act if you haven't already.
Your first step will likely be to check if you're already using it. You can do this by checking in the property selector or on your main account page.
If you're using UA, your property ID will start with UA and then numbers: UA-XXXXXXX-X
If you're already on GA4, it's just 9 digits: XXXXXXXXX
If you only currently have a UA property set up, it's time to add a shiny new GA4 property. Google does provide a GA4 setup wizard which will help walk you through adding a GA4 property to a site that already has some form of Analytics.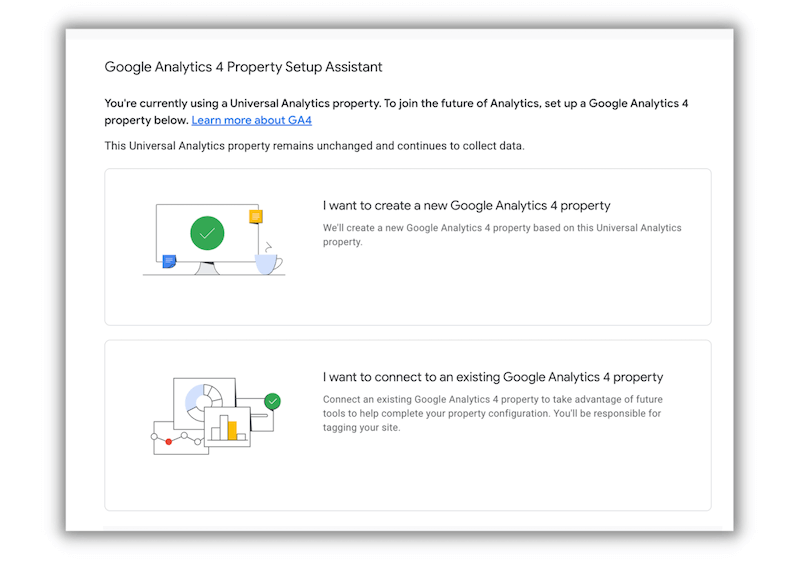 Once complete, be sure to adjust any Google Ads conversion tracking you have in place.
To make sure you're fully future proof, we'd also highly recommend exporting any important data from your Universal Analytics property to ensure that you have a historic reference point when it eventually turns off.

In short, the sunsetting of Universal Analytics means that - if you're only using UA currently - your Analytics will stop collecting data next year.
And, if you were to wait to set up a GA4 property at that stage, you'd have no historical data for analysis. Which is fairly essential to give context to your reports, whether that's month-on-month improvements or year-on-year reviews.
But, act now and you'll be able to start gathering data using the new metrics straight away, you'll have more time to get used to the new format and you'll have already built up your historical data by the time the change take effect.
There's no doubt that this will be a big change. The interface for GA4 is very different to its predecessor, and the different measuring model means that your reports will inevitably have to evolve.
But, it's time to embrace that change. The new platform means that marketers will be able to keep obtaining data to inform their strategies, while complying with current regulations as well as any future regulations which may come into play.
If you're feeling a little lost and would like to speak to a Google Analytics consultant to learn more, just get in touch - we'd be happy to help!