Writing for search engine optimisation can seem like a challenge. It often feels like you need hard sales tactics, some in-depth marketing knowledge or even technical experience to do it well.
The truth is, good writing is actually the foundation of all successful SEO copywriting.
And if you enhance your good writing with the additional tips and tricks in this guide, you can create really powerful content that both your customers, and the search engines love.
Here's a quick rundown of all the things we'll talk about:
Once you know all the tricks to optimising your text for SEO, you'll be ready to write content that your users love, and that ranks brilliantly too.

What is SEO copywriting?
SEO copywriting is content that's written to perform well in search engines. But to be really successful with SEO writing, you need to write for your users too.
Good SEO copywriting should be valuable, readable and relevant, and created to target your chosen keywords.
So, how do you get started?
You get started with research.

Planning your SEO content
It's surprising how often good writing gets scuppered by bad research and planning.
So, before you start typing, you need a clear idea of why you're writing, what you're writing and - most of all - who you're writing for.
Who are your users?
The first thing you need to work out is who you're writing for. Knowing your audience is going to inform all your decisions about your writing, from the tone you choose to the type of content itself.
Creating some user personas for your target audience will help you shape that content so it's relevant and impactful to them.
User experience and SEO go hand in hand, so you need to make sure that you understand who your users are, and what content will be valuable to them.
Know your content's purpose
What are you creating content for? There's a big difference between writing content for a landing page and creating an article with the aim of generating social shares or links.
So what are your goals for your content? Are you trying to:
Rank for product or service keywords to generate leads or sales
Provide thought leadership or show knowledge
Generate social shares and likes
Build links
Generate clicks and impressions
Each of these goals might lead you to approach your content differently.
For example, an in-depth article on a subject could be great for showing thought leadership, but it's probably the wrong format if you're trying to generate leads directly from the page.
SEO and keyword research
Now you've got an idea of the purpose of your content marketing, and know who you're writing for, it's time to start the most important stage of planning: keyword research.
Keyword research is probably the most significant element of SEO content writing, as it's how you identify the words and phrases that are going to bring in users.
It's also how you refine your target keyphrase list so that you're specifically targeting the words that are going to bring you the most success.
It's a good idea to use a couple of different keyword research tools to help you find the best selection of target keywords for SEO. But it's also important that you consider your user personas and your content's purpose too.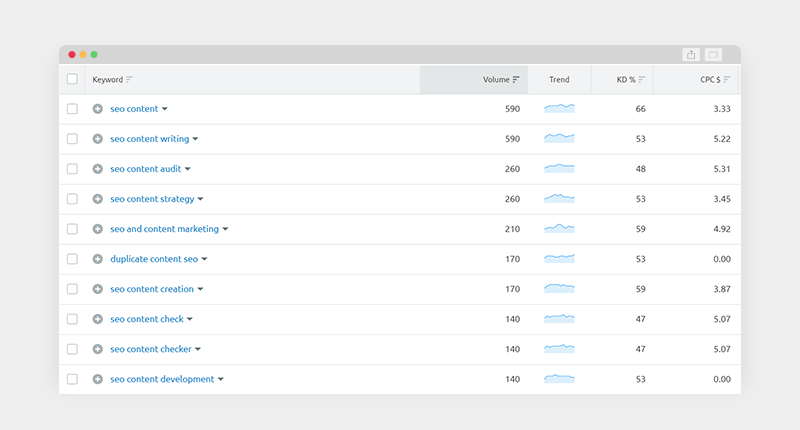 If you've got a list of great target keywords in terms of SEO, but they don't fit with the content you need to write, or the user you're trying to target, then this isn't the right arena for them.
You want to make sure that you're really focusing on the things that are relevant to your user, and help achieve your goal.
So don't be afraid to discard a keyphrase with low competition and good search volume if it doesn't actually fit with what you're doing.
You can always target that keyphrase with more appropriate content another time.
Now you've got a clear idea of what your content is about, who it's for, and the shape it's going to take, it's time to look at how to make it really SEO friendly.

Writing SEO headlines and subheadings
Headlines and subheadings are a fantastic way to make your content both more SEO friendly, and more readable.
Search engines consider heading text to be more significant than the body text, so any keywords in your headings are given more weight than if they appear somewhere else in the content.
But that does NOT mean you should put all your content in H1 tags!
The key to writing SEO friendly headings is to obey these rules:
Only one H1 - that's the main title of your page
Subheadings should all be correctly structured, so don't skip from H2 down to H4 just because you like how it looks, use the H3 instead.
The heading should represent the text that follows. Don't just create a keyword heading for the sake of it.
Headings make your article much more readable, by breaking the text into smaller chunks. It's easier on the eye and also makes your article more skimmable.
When it comes to that main title, the best SEO headlines use a range of different strategies to encourage impressions and clicks.
But there's a fine line between compelling and clickbait so it's important to make sure that your headline writing is appropriate for both your users and the page you're writing, as well as including your main target keyword.

Alt tag SEO
Another way to optimise your content for SEO, is to include images with appropriate alt tags.
Images are another great way to provide visual breaks in your content. This is really useful for making your article easier to read, and it can also give you the opportunity to include visual descriptions, screenshots, diagrams and more into your text.
Each of these images allows you to add alt text. Alt text is what search engines use to understand what your image is about, which makes it a great way to add more keywords onto your page.
But alt text isn't just for search engines. It's also used by screen readers to enable people with visual impairments or disabilities to understand what your image is as well.
So it's really important that when you're writing alt tags for your images, that text accurately describes the image.
If you can also work some keywords in there, that's great. But never forget that the main purpose of your alt tags is accessibility.

Internal linking
Another great way to improve the SEO value of your content is to look at your internal linking structure.
We have a great example of how anchor text impacts SEO, which goes into more detail about how internal linking works. But in short, internal links help you show search engines what your target pages are about through relevant, keyword rich anchor text.
Making sure you're linking to your own content helps it rank better for key terms, and also gives your users a nice easy way to navigate to other sections of your site that they may find interesting.
That helps with your bounce rate and session duration, which in turn helps signal to Google that your website is one that users find relevant and useful.

How to write meta titles and descriptions
The last element of writing great SEO content is your meta titles and descriptions. This is where you tell search engines what your page is about, and what you want it to rank for.
Good meta titles and descriptions include your main target keyword, but also accurately describe the page and website.
That's because your meta tag and description is also used on the SERPs, so you want to make sure that users who see it:
See that the page is relevant for the term they searched
Know who's website they're visiting when they click
Know what sort of page they'll see when they get there
The text in your meta title is a big SEO factor, as it's your chance to tell search engines what the main topic of your page is. Meta descriptions do not directly have any SEO impact, but a good meta description will entice users to click your website in the SERPs.
It's also important to remember that best practise for your meta descriptions and titles is to keep them within the character limits. Otherwise, your carefully crafted text might get cut off on the search results pages.
We like to use this clever meta length checker tool from MRS to ensure that we keep our tags and titles within the limits.
How to write quality SEO content
So, the basics of how to write well for SEO can be summed up like this.
First: get an idea of who you're writing for, what you're writing, and why you're writing it.
Second: write something that you think they're going to find relevant and useful.
Third: Use the tips and tricks in this guide to optimise that text with your headings, alt tags, internal linking and meta descriptions to help your page rank higher for your key terms.
Now you've got everything you need to write great SEO copy.
But if you're looking for a little more help with your content marketing or SEO strategy and would like to speak to an expert, we would love to hear from you!
Get in touch
Got a question or need some help with your next web project? Our creative team is here to help, and we'd love to hear from you.