Who We Are
Edge of the Web are a small, excellent digital agency based in Warwick town centre. We've been around since 2008, and we work with loads of different types of clients, from startups to household names.
As part of our team, you'll be working alongside experts in different fields, from development to digital marketing, producing high quality work that you'll be proud of.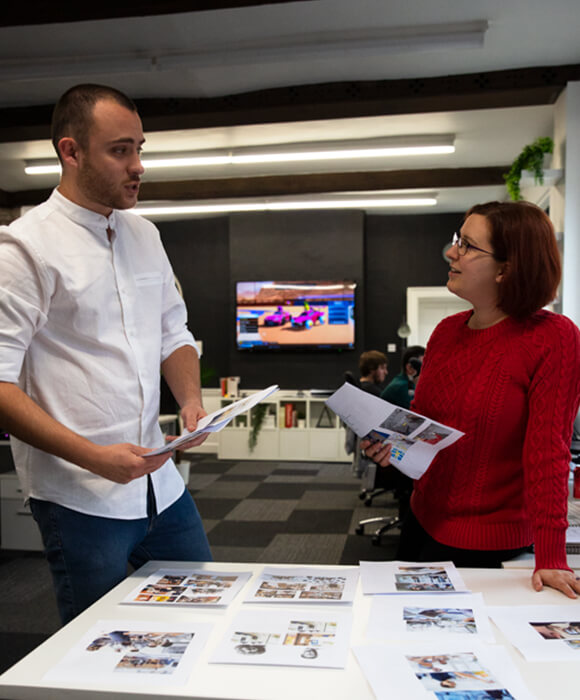 Front End Web Developer
Warwick, United Kingdom
A salary range of £23k-£30k, depending on your current skill set and experience
Full time, Mon-Fri, 9am - 5:30pm
Hybrid working role
Your Role
You'll work across a wide variety of projects, including brand new website builds, making changes and updates to existing work, and helping to carry out proactive maintenance to past projects.
---
How We Work
We don't micromanage our team so it's important that you are organised, self-motivating and able to prioritise your workload.
We're a busy agency, and sometimes you might have to dip in and out of projects. You need to be able to work independently and be a good problem solver. You'll also need to be able to work in collaboration with the rest of the team, including with other departments.
In exchange, you'll get the chance to work alongside some fantastic designers and developers, and the opportunity to deliver some fun, challenging projects.
---
Your Skills
For this role, it's important that you have experience in the industry, either in-house or at another agency. However we don't require a specific level of experience, and your motivation, ability and willingness to learn will also be a big factor.
---
Essential skills
HTML5
CSS3
SASS/LESS
Basic PHP
Basic Vanilla Javascript
A passion for front end development
Be organised and able to hit your deadlines
Experience in a similar development role
Ability to work independently, but also collaboratively with different teams
An affinity for dogs - we have two office dogs (Buzz and Bruce) who are very friendly and are in the office most of the time
A portfolio with some examples of your work
---
Essential knowledge
How to use HTML5 elements correctly for usability & accessibility best practices
How to use modern CSS to turn a visual design into a functional website

Strong attention to detail

How to build a responsive website with a mobile first approach
An understanding of web optimisation with a focus on page speed

Knowledge and exposure to Core Web Vitals

Be able to write basic Javascript to make parts of a website interactive
Excellent knowledge of browser troubleshooting and debugging practices
---
Bonus skills and knowledge
BEM CSS Model
Git
Comfortable with jQuery
Adobe Photoshop
Adobe Illustrator
Understanding of how package managers work (composer/yarn)
Understanding/experience of Wordpress
Comfortable setting up/transferring databases
Understanding of domains & hosting environments
Understanding of technical SEO and being able to apply that to a project build
The ability to extrapolate from a design without the need of full instructions/visuals from a designer
---
What You Get
For the right person, working at Edge of the Web gets you:
A great working environment, and the opportunity to work on a wide range of exciting projects
Regular staff nights out, a pool table, ping pong table and drinks fridge/bar in the office.
A salary range of £23k-£30k, depending on your current skill set and experience.
23 days of holiday per year (plus bank holidays), as well as your birthday off.
Contributory pension scheme.
This is a hybrid role - you will need to be able to work from our Warwick office 2 days per week. This is not a freelance or fully remote position.
Join the team
Interested? Send us your CV, covering letter and work examples.
If we seem like a good fit, we'll ask you to come in for a chat - where we can learn more about you, you can learn more about us, and you can meet the dogs too!
If you don't have a dedicated portfolio, please send some links to projects you've worked on. We can't consider any applicants that don't provide examples of their work.
Apply now