Working with us
Edge of the Web are a small, but ambitious digital agency based in Warwick. We have been in business for over a decade, and work with local, national and global businesses. We design and develop bespoke websites and systems in a variety of business sectors.
We have a team of super talented individuals in strategy, content, design and development that you will collaborate with.
Our office on Warwick High Street is easy to get to by road or rail. It's less than 2 miles from J15 of the M40, and less than a mile from Warwick Railway Station, which is on a direct line to both Birmingham and London.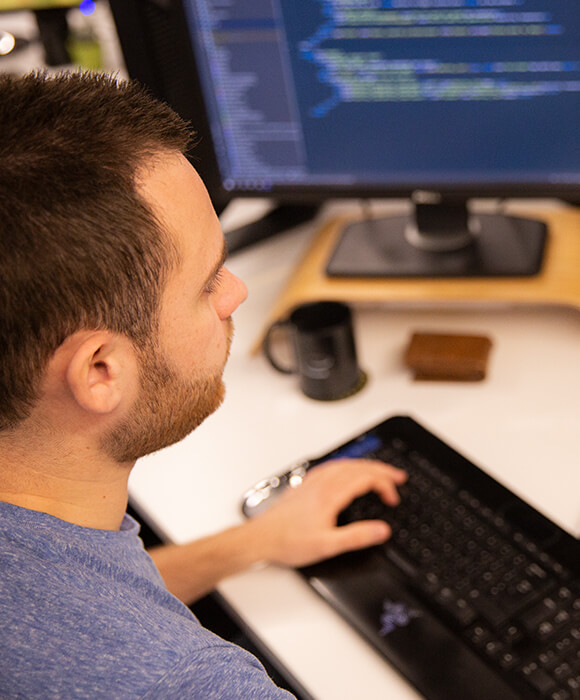 Digital Designer
Warwick, United Kingdom
Salary dependant on experience
Full time, Mon-Fri, 9am - 5:30pm
We're looking for a talented digital designer to join the Edge of the Web team. This is a great opportunity to work collaboratively with a close-knit team that consists of specialists in a variety of disciplines.
Based in Warwick, we work on a wide range of projects, from simple B2B websites to complex business-critical systems - and everything in between. Above everything else, we love making a difference for our clients, and we're always looking to add value wherever we can.
The role will be part-remote, part in-office. We're currently working remotely, but are likely to revert to 2 or 3 days in the office in the next few months.
When working in the office, you'll be in a fun and rewarding environment. We have a creative workspace in a historic building including a Playstation, dart board, pool table, jukebox, free drinks fridge and two office dogs (so being a dog lover is a must).
---
About the role
The role will be varied, but you can expect the majority of your time working alongside project teams to design outstanding website visuals to hand over to our front-end development team. Other responsibilities will include:
Working with the project team to understand the needs of clients and translating those needs into a website strategy
Designing website mockups at various device sizes and working with the front end development team to ensure the developed interface matches your vision
Working with existing clients to create marketing materials such as brochures, whitepapers and presentations based on their brand guidelines
Collaborating with our Marketing team to make incremental improvements to client websites
Designing assets for our own marketing campaigns and social media channels
Although we're primarily a web agency, we do also help clients refine their branding, and from time to time you'll work on rebranding projects.
You'll be reporting directly to our Creative Director, who is responsible for approving all work before presenting to clients. You should be open to suggestions and constructive criticism - ultimately, we're all aiming to deliver the best work possible to our clients.
---
About you
The ideal person will have strong design skills, agency experience and above all, motivation to improve their skills and deliver exceptional work. You will have a creative flair, but also understand that good design is all about solving problems, not just about creating art.
You must be easy to work with, and genuinely enjoy what you do. People who are successful at Edge of the Web are those that don't settle for "that will do", but instead try to be better than they were yesterday.
While this isn't a predominantly client facing role, there may be occasions where you'll be involved in design presentations with clients - so you need to be presentable, comfortable communicating with clients, and confident in your work.
We're looking for someone that has:
Agency experience - ideally a couple of years. We need someone who can hit the ground running, so we're not looking to hire someone in a junior role on this occasion.
Understanding of design techniques such as creating sitemaps, sketching wireframes and prototyping
Experience with Adobe Creative suite, particularly Photoshop, Illustrator and InDesign. We currently use Photoshop to design our high fidelity mockups. We're open to you using other tools, but as some of our team use Windows, our workflow doesn't allow for Mac only software such as Sketch.
A good understanding of User Experience principles. Design isn't just about making something pretty - in a lot of cases, our work involves designing User Interfaces that solve problems.
The ability to understand a brief based on what we're trying to achieve - there will be times where you're expected to achieve a certain design style without direct instruction.
Good communication skills - you'll be an important part of a project team, and you need to be able to communicate your ideas to others clearly and unambiguously.
The experience and judgement to agree to realistic deadlines, and then stick to them. We don't ask our team to work to ridiculously short timeframes, but we don't work on an open-ended clock either.
A proven track record in designing exceptional products - i.e. a portfolio of past work. This is super important. We won't be following up with anyone that doesn't include any examples of their work.
Above everything else, the most important quality is to be passionate about your work. We're looking for someone that will genuinely care about what they design and the impact it has on the client's business.
---
It would also be great if you have…
An understanding of HTML/CSS and how websites are built. We're not expecting you to code, but basic knowledge will help you collaborate with our development team.
Some experience in User Experience processes such as card sorting, user testing, and more.
Illustration or photography skills - these are skills we don't currently have inhouse so experience here would be a big plus
---
What you'll get in return
A competitive salary depending on your experience
31 days annual leave including bank holidays
Your birthday off as an extra holiday (if it falls on a working day)
Plus extra day's holiday to use as a "duvet day" after 1 year's service
Contributory pension scheme
A fun, collaborative and supportive working environment
Regular free lunch outings and drinks to celebrate project launches
Relaxed, casual dress code
Flexible/Remote working at least 2 days per week
No recruitment agencies, please.
Join the team
If you'd like to be our new Digital Designer send us your CV and let us know why you think you're a good fit.
Apply now